Ms Cece is the ONLY stylist on the West Coast certified to offer GinaCurl and is one of only 12 certified stylists in the country!
The GinaCurl is now available at Endless Creations Salon in Chandler AZ
Don't resist your curls. Reform them! GinaCurl restructures the hair on a molecular level to allow your curls to be reshaped and redirected. The GinaCurl process will reduce frizz and volume, reduce shrinkage, and leave you with hair that is softer, smoother, shinier, and more manageable.
Not your typical texturizing service, please don't call it a perm!
Lish gets Gina Curl Retouch #2
Singer/songwriter, actress, and vlogger Lish gets a Gina Curl retouch at Endless Creations Salon! She had her initial Gina Curl service another salon, followed by her first touch up 10 months later. Now, 8 months later, she's ready for another treatment on the new growth. And this time, she's come to Chandler, Arizona to see Ms Cece. She's also ready for a haircut to even off the bottom line of her style! See her cut and beautiful waves on her thick 4C hair. Not the tighter curls she used to, but she loves the loose waves and how freely her hair moves. She gave up 2 inches to even up the back of her hair and couldn't be more thrilled. It's a 17 minute watch, but an honest, detailed account of her experience with the Gina Curl at Endless Creations Salon.
RESET
First, we use a solution to alter the protein chains in the hair which prepares your curls to take on a new shape. They're going to get a makeover.
REARRANGE
Next, we give your curls new direction by winding the hair around perm rods of varied sizes, customizing the placement around the head. Then, using heat, we reactivate the protein bonds.
REFORM
Finally, we apply another solution to neutralize the hair and permanently seal the bonds so that your curls keep their new shape.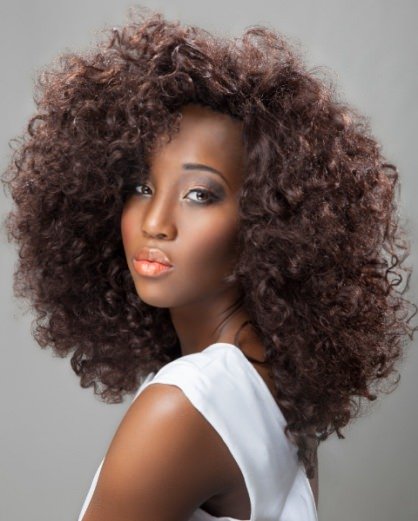 Works for All Curls
The GinaCurl works for all curl types whether you have tightly coiled, kink, curly or loose curls. It reduces frizz, volume and shrinkage and even lets you wash and go.
Highly Customizable
The GinaCurl can take up to 1 hour to process so we can take our time to customize the curl reformer and address any differences in porosity on the hair. No matter your curl type, you will be able to gain and maintain length with this curl reformation process. There is no breakage at the line of demarcation. You will be able to work out, swim, and dance in the rain without having to worry.
Touch Ups
The GinaCurl Curl Reformation system and the Straight Variation is a healthy alternative vs other texturizing treatments. Your hair will hold on to its natural elasticity and will only to be touched up about once or twice a year. When getting touch ups, we do not need to re-process previously treated areas. We protect hair that's already been reformed with a protection cream and only treat the new growth. When your new growth begins to appear, it will blend naturally into the treated hair!
Pre-Screening is a MUST for GinaCurl

The GinaCurl process begins with a Pre-Screening to ensure that the treatment is a good - and safe - fit for your hair. The pre-screening will be based on your responses in our GinaCurl consultation form. It is imperative that you fill out the consultation form honestly and accurately so that we can assess both your eligibility and the correct formulation to use for your specific hair.
We can perform the pre-screening either in the salon or online, and there is a charge for the appointment either way. Ms Cece will review your GinaCurl consultation form in advance of your scheduled pre-screening.
Online Pre-Screening $35
In Salon Pre-Screening $75
Note: The pre-screening fee is non-refundable and non-transferable. The pre-screening fee is NOT deducted from the total cost of the GinaCurl service.
Following your pre-screening appointment, we reply to you VIA EMAIL within 7 business days to inform you if you're eligible for the GinaCurl service and how much the service will cost. If you qualify, we will provide you with a link to book your GinaCurl service.
Ready to Transform Reform Your Curls?
Here's how it works. Read Carefully.
STEP 1: Pay the Fee
Online pre-screenings are $35 and in salon pre-screenings are $75. You'll need to pay the pre-screening fee before submitting the form in the next step. You may want to review our GinaCurl FAQs at the bottom of the page before paying the re-screening fee. When you're ready to pay your pre-screening fee, click below.
STEP 2: Submit the Pre-Screening Application
Make sure you have paid the fee in step 1. If the pre-screening fee is not submitted prior to your scheduled pre-screening consultation, you will not be considered for this service. Please be advised, this pre-screening form will ask for a 5-year history of hair color and other chemical services, and require several photos of your hair in its natural wet state.
When you're ready to start the application, click below.
GinaCurl Pre-Screening Application
STEP 3: Pay Deposit and Book GinaCurl Service
If you qualify, we will provide you with a link to book your GinaCurl service. A $300 deposit will be required to secure your appointment.
---
Common Questions About GinaCurl
How much do you charge for the GinaCurl service?
The price is determined by the length, texture, condition, product usage, and previous chemical in the client's hair. Our price starts at $550 with a starting length of three inches.
EXTRA-SHORT HAIR (Chin + Shorter) Starting at $550
SHORT HAIR (Between Chin + Shoulder) Starting at $750
MEDIUM HAIR (Below Shoulder-to-Shoulder Blade) Starting at $950
LONG HAIR (Below Shoulder Blade to Bra strap) Starting at $1250
EXTRA LONG HAIR (Below Bra strap + Longer) Starting at $1500
How should I wear my hair to the GinaCurl appointment?
On the day of your GinaCurl appointment, ensure your hair is as tangle and snarl-free as possible. Not coming with stretched out hair will result in a higher quote. We recommend washing, conditioning, detangling, applying a light product and either twisting, loosely braiding, or blow drying and wrapping your hair.
How is the GinaCurl different from a Jherri Curl or Wave Nouveau?
What makes the GinaCurl different from the rest, is that we can take our time to apply our curl reformer (The Thio Chemical). It can take up to1 hour to process, so we have time to address every porosity level down the hair shaft using multiple chemical strengths if necessary.
No irritation. Curl reformer is never applied to the rods so there is no chance of compromising the ends. There is no burning or skin irritation.
During a retouch, we can protect previously treated hair with protection cream and apply the curl reformer to the regrowth only. Because the curl reformer takes so long to process, there's no risk of previously treated hair absorbing the curl reformer during the rinsing.
How long does a GinaCurl service take?
The GinaCurl process takes approximately 6-8 hours depending on the client's hair length, texture and curl type, and product usage. Please be mindful of this when scheduling.
What happens if I need to reschedule my GinaCurl appointment after submitting my deposit?
We allow (1) courtesy date modification and will transfer your deposit to another date within 30 days of the initial reserved date. Appointment modifications must be made 7 days prior to your initial appointment.
How much do GinaCurl retouches cost?
The retouch is often more intricate and delicate and can require more time to perform the retouch. We will charge the exact same price for your GinaCurl retouch as the initial GinaCurl service, regardless of the amount of new growth, time and product required to perform your Retouch appointment.
Your Retouch price will remain the same as long as you have your retouch appointment before your one-year anniversary and there is NO chemical change to your hair.
If you desire a Retouch appointment after your one-year anniversary a New Online Consultation form must be submitted. If by your second retouch you continue to grow out your hair or you decide to cut and style your hair a lot shorter, we will adjust the price of your retouch.
During your retouch, the stylist will only address the new growth, unless she feels the ends need to be refreshed. The previously treated hair will be protected by using a protection cream on that hair so the solution will not be saturated into the previously treated hair.
Are there any reasons I wouldn't be able to get the GinaCurl?
You are not a candidate for the GinaCurl if you have high lift color, highlights, bleach, relaxer, or a texturizer. Some smoothing treatments and amino acid treatments may be another reason for not being able to get a successful GinaCurl from roots to ends. We will determine that in your online consultation.
What are your recommendations for clients with thin or fine hair?
Our recommendation if you have fine or thin hair is to keep your hair short so it will look full. The longer you go with fine and thin hair the more the hair will look stringy and see through.
Can I get the GinaCurl if my hair is color treated?
Servicing the GinaCurl on color treated hair is trickier than most people think. This is because the ends are very porous and the roots area is much healthier, so customizing is required. We recommend that only the roots are colored with permanent color and if the ends need to be refreshed, use only a rinse. Remember peroxide color lifts and semi-permanent color deposit. If you want to stay or go dark, there is no need to use peroxide color. To consistently receive fabulous Gina Curls, you must understand the effects of peroxide color with your GinaCurl. Hydrogen peroxide will break some of the internal disulfide bonds found in the cortex of the hair. In a typical hair color process, approximately 10 % of existing disulfide bonds are destroyed. If the hair is damaged because of an over processed color, the hair will be weak, easily broken, and gummy or stretchy when wet. This means the client is definitely not a good candidate for GinaCurl. You will need a few protein treatments to mend the cortex layer.
Can I get the GinaCurl if I have Highlights with color?
We do not recommend highlights with the GinaCurl. There is no way to isolate the hair that is colored from virgin hair. If we do the GinaCurl over highlighted hair we will have to use a weaker formula to protect the colored hair, so the virgin hair will not take a successful curl.
Will the GinaCurl fade my color-treated hair?
Yes, artificial hair color may fade with this process. Virgin hair may also lift one shade for some clients.
How long do I need to wait before coloring the hair?
Wait fourteen days for all types of color, including demi, semi and rinse colors. You can risk the chance of the hair reverting if the hair is colored too soon. We also recommend using a lower volume peroxide to color your GinaCurl and using 1-2 shades lighter than before when choosing an all over color; because hair colors that are lower in peroxide percentage deposit do not lift lighter.
Can I get the GinaCurl if I'm pregnant?
Yes, getting a GinaCurl doesn't appear to be a problem for the health or your baby's well-being. There are no conclusive studies about the safety during pregnancy of the solution used for the GinaCurl. However, because of the pregnancy hormone changes in the first trimester, we don't recommend getting the Gina Curl during your first trimester. We also don't recommend getting the GinaCurl for the first three months of your child's life, because hormones can cause some client's hair to be very resistant to chemicals. We caution clients to wait until after nursing. Another thing that most pregnant women are not aware of is, normally the hair sheds quite a bit after birth and sometimes after nursing. It's assumed that the air does not shed as much during the pregnancy, therefore getting a little thicker. Afterward, the hair returns to its normal thickness, shedding off all the hair that didn't get shed in 9+ months.
Can I get the GinaCurl if I have Alopecia?
Yes, there is no problem servicing the GinaCurl on someone that has Alopecia.
What is Straight Variation?
Straight Variation uses a curl reforming product to straighten your hair while improving the hair's feel, softness and shine and making it more manageable to style your hair with ease.
How can I style my hair after a Straight Variation?
You can blow-dry and flat iron your hair if you would like a polish and styled look. What would have taken you 1 hour to do will now take 20 minutes to do. We recommend using a flat iron at a low temperature. You can also wear your hair in protective styles.
Will the Straight Variation help with my comb out routine?
Straight variation will help to keep your hair healthy by allowing you to comb through your hair with ease. Less stress on your hair and less product needed will help retain health and length.
Will my hair shrink after styling with the Straight Variation?
No. Once you style your hair it will not shrink back up. It will last longer and feel so soft.
Can I get a GinaCurl after a Straight Variation?
It may be possible to get a GinaCurl after a Straight Variation as long as you don't have heat damage.
Is the Straight Variation a Formaldehyde based perm?
No. The Straight Variation is a thioglycolate-based perm, and it is permanent, unlike a Keratin treatment.
How is the Straight Variation different from a Brazilian Blowout?
The Straight Variation permanently texturizers the hair by physically changing the structure of the hair.
Brazilian Blow Dry treatments temporarily coat the hair with keratin to smooth the hair, but the effects wash out after 3 to 6 months. So, you must visit a salon often to re-coat the hair with this method. Brazilian Blow Dry treatments may also contain hazardous chemicals that release highly carcinogenic gas. For more information on the danger of chemicals, please check OSHA Safety and Regulations.
When do I need to come back for a retouch of my Straight Variation?
We recommend getting a Straight Variation every 5 to 6 months.